Yurts have a long history dating back thousands of years to the nomadic tribes of Central Asia where they were used as portable dwellings. Over time, yurts have evolved and have become popular with people looking for eco-friendly and low-cost housing solutions. Today, yurts are widely used as holiday homes, guest houses, yoga studios and more. 
4.5m diameter
16sqm floor area
1.68m wall height
2.9m dome height
5m diameter
20sqm floor area
1.68m wall height
6.3m diameter
31sqm floor area
1.68m wall height
8m diameter
50sqm floor area
1.8m wall height
Start your order with a 50% deposit and pay the balance prior to shipping
Standard inclusions on all yurts:
Yurt cover: durable, waterproof, and UV-resistant double coated PVC canvas to protect the interior and ensure longevity. Ideal for harsh Australian conditions. 

Wall frame: bamboo lattice and aluminium frames as well as top and bottom aluminium channels, combining the strength and flexibility of both materials.

Roof frame: structural pine beams which extend from wall frame to central supporting ring (updated in 2022, previously supplied with bamboo poles)

Dome skylight: clear polycarbonate dome skylight provides plenty of natural light into the yurt.

Ventilation: whirly bird style ventilation provides great air flow and expels hot air and condensation. 

Small window: one small cantilever window (650mm x 650mm) of glass and aluminium construction.

Door: Fir wood double door (900mm wide) with fixed glass panels, includes lock and keys.

Insulation: felt insulation is installed between inner lining and outer yurt cover, keeping the yurt warm in cold weather and cool in hot weather. 

Interior liner: a light coloured patterned fabric which creates a beautiful ambience inside the yurt day and night.

Anchor kit and fixings: All the bits and pieces you need to install and secure your yurt. (You need to arrange a suitable base structure for your Yurt) *see notes on assembly below.

Shipping and handling: Shipping to your nearest port (Australian capital cities) is included however you will need to arrange pick up from there. We will supply crate dimensions and weights for you to arrange. Most yurts can be collected with a dual axle tandem trailer and suitable tow vehicle if you have one, or we can help you arrange a local courier.

Warranty: We stand behind the quality of our Yurts and are proud to offer a 3-year warranty on the frame and cover. See our FAQ's for more details.
​
Optional Extras available for all Yurts:
Small window ($220 each): 900mm (h) x 675mm (w) cantilever window which opens outwards for airflow. Can be installed in any position you choose.
Large window ($550 each): 1.7m x 1.7m (approx) fixed glass bay window, for framing that perfect view and letting in plenty of sunlight. Can be installed in any position you choose.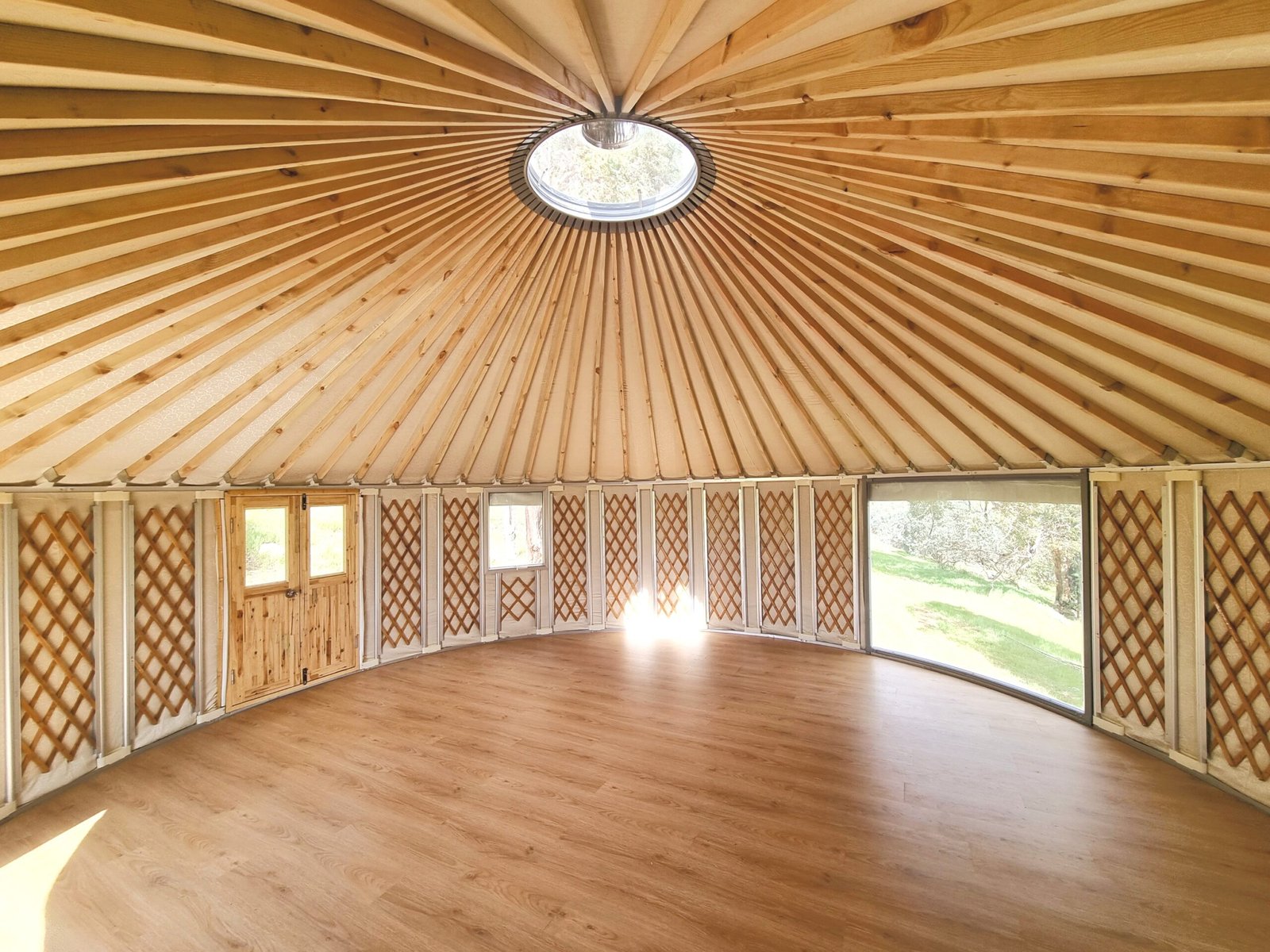 Sub-frame and flooring: these are not included and will need to be arranged independently. We typically suggest building a sub-frame of either timber or steel construction, with a round timber platform to match the diameter of your yurt. Alternatively you could pour a circular concrete pad. We can assist with design advice.


Difficulty: your yurt is fairly simple to build, and can usually be done in a few short days with simple hand tools, depending on how handy you are. The most difficult part is placing the outer cover over the frame. The outer cover is heavy and will need 3 – 4 people to lift for the larger diameter sizes. You will need a large A-frame ladder or a scaffold to reach up to dome height as you need to pass the outer cover through the dome from inside, before spreading out.

A rewarding experience: The joy of building your yurt is reminiscent of the old homesteading "barn raising party" – Get some friends and family around to help and create memories that will last a lifetime!
Start Living
Outside
The Box!
Let us help you discover the best alternative solutions for your ideal space
We'll get back to you in no time