Geo Domes are a versatile option for homes, guest houses and short-term accommodation. They're also great for yoga studio's, healing spaces, private retreats or exercise spaces. Their geodesic shape creates an incredibly strong structure with perfect symmetry and a truly unique design
Geo Dome specs and prices
5m diameter
20sqm floor area
6m diameter
28sqm floor area
8m diameter
50sqm floor area
Start your order with a 50% deposit and pay the balance prior to shipping
Standard inclusions on all Geo Domes:
Geo-Dome cover: durable, waterproof, and UV-resistant double coated PVC 850gsm (colour options available). Ideal for harsh Australian conditions. 

Main frame: Hot-dip galvanised steel pipes (26mm x 1.5mm), coated white. This is an incredibly sturdy frame which is protected from corrosion. 

Interior liner and insulation layer: 8mm thick cellucotton polyester lining which covers the interior of your Geo-Dome. This provides insulation and a luxury feel to your space.

Glass Door: 2m x 1m fixed glass door with aluminium frame. Includes lock and keys. 

Ventilation: 2 x 'cat ear' ventilation openings, provides air flow and expels hot air and condensation. 

Mesh windows: 2 x triangle shaped mesh windows with roll up covers made of the same material as the Dome cover.

Skylight: Top skylight is a clear section of the Dome cover which provides plenty of natural light and a crystal-clear view of the night sky!

Large panoramic window section: This is the clear section of the Geo Dome. It allows a seamless view of the outdoors and also shows off that beautiful geodesic frame from the outside.

Cover tensioning system: Allows you to get a snug fit on your outer cover, for a much cleaner look.

Hardware and fixings: All the bits and pieces you need to install and secure your Geo-Dome onto a solid base, includes galvanised nuts and bolts. (You need to provide a suitable base for your Geo-Dome) *see notes on assembly below.

Shipping and handling: Shipping to your nearest port (Australian capital cities) is included however you will need to arrange pick up from there. We will supply crate dimensions and weights for you to arrange. Most Geo-Domes can be collected with a dual axle tandem trailer and suitable tow vehicle if you have one, or we can help you arrange a local courier.

Warranty: We stand behind the quality of our Geo Domes and are proud to offer a 3-year warranty on the frame and cover. See our FAQ's for more details.
Full Comfort upgrade package ($5,000):
level-up your luxury! Perfect if you intend to use for short or long-term accommodation
Canvas interior lining: Upgrade to insulated canvas interior lining, your choice of colour. This is a premium lining, easy to clean and high quality. It is backed with aluminium air cell insulation.

Round glass windows x 2:  Upgrade to 600mm glass windows which open fully to allow fresh air into your space (instead of the mesh windows)

Solar ventilation fan: Installs on your Geo-Dome and circulates air through the interior, uses the sun to keep you cool!

Electric skylight shade: 2m x 2m – Gives you the option to allow the full light in from the skylight or to partially or fully close the electric blind, perfect for hot days or for long sleep-ins!

Tailored window curtain: Specially designed cotton/linen curtain to fit your panoramic window, allows you to control how much light you let in, and gives you full privacy when you need it. 

Smart lock keypad: a convenient way to lock your Geo-Dome and allow keyless entry.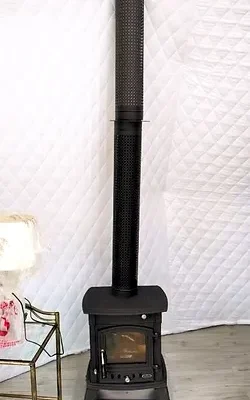 Fireplace and chimney ($1,850):
Includes the fixings and bracket required to install through your dome roof
Sub-frame and flooring: these are not included and will need to be arranged independently if using for accommodation. We typically suggest building an octagonal sub-frame of either timber or steel construction, with a round timber platform to match the diameter of your Geo-Dome (allow 50mm extra around the edges). Alternatively you could pour a circular concrete pad or other raised surface.

Temporary installation: Geo Domes can also be ideal for temporary or informal installations such as events, pop-up stalls, showroom etc. If you plan on this type of installation, we have a ground anchor kit to allow you to fix on a grass surface or similar. 

Difficulty: Your Geo Dome is fairly simple to build and can usually be done in a few short days with simple tools, depending on how handy you are. The most difficult part is placing the outer cover over the frame. The outer cover is heavy and will need 3 – 4 people to lift for the larger diameter sizes. You will need a large A-frame ladder or a scaffold to reach up to dome height.

A rewarding experience: The joy of building your Geo Dome is reminiscent of the old homesteading "barn raising party" – Get some friends and family around to help and create memories that will last a lifetime!
We can customise our domes to suit your needs. From our standard designs all the way to something truly unique like glass domes, and a range of upgrades you'll love!
Speak to us about custom orders, large sizes or international shipping
Need something out of the box?
Start Living
Outside
The Box!
Let us help you discover the best alternative solutions for your ideal space
We'll get back to you in no time